itcHUB Advantages
Focusing on comprehensive conference application, itcHUB interactive flat panel builds a small conference centre.
High-performance core

Industry-leading x86 architecture and NB-loT module provide more stable and efficient performance, achieving cost reduction and efficiency increase

Collaborate quickly and easily

Intelligent writing recognition, collaborative whiteboards, and four-split screen function facilitate efficient collaboration, making meetings more comprehensive and streamlined

Easy to install and maintain

Support wall mount and bracket installation. Flexible movement allows infinitely extension of conference space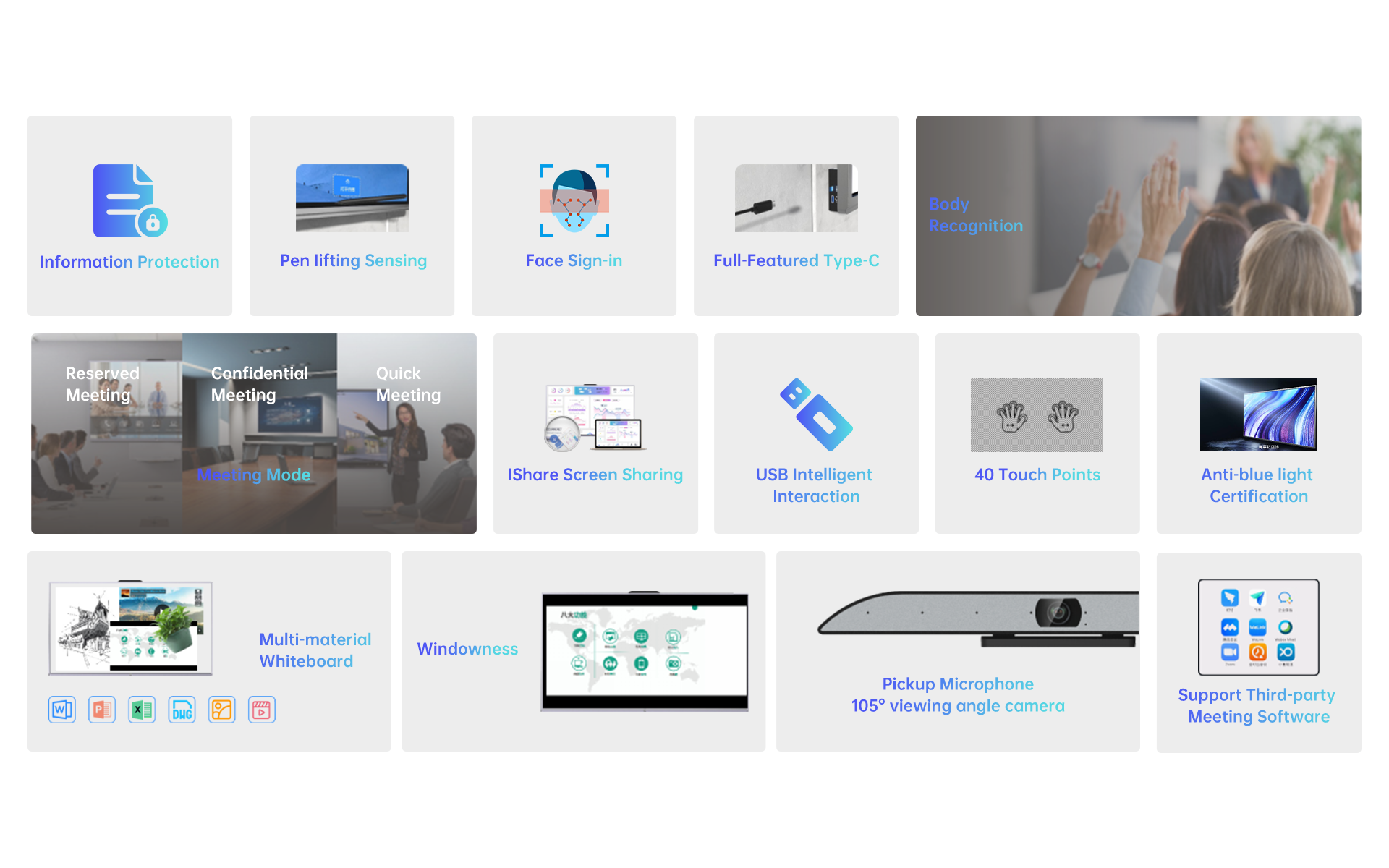 Smart button
The newly designed smart button has high-quality technology and minimalist appearance design; built-in infrared transceiver equipment supports centralized control of curtains, lights, microphones and other equipment; integrated temperature and humidity, light perception, PM2.5 and other sensors support clear sensing of the environment changes, bringing a smarter and more convenient conference experience
Watch wake-up
The camera dynamically captures human behavior, skipping cumbersome key touch and other boot operations, and supports watching the camera to wake up the intelligent  interactive flat panel; at the same time, watching confirmation mechanism is added to avoid wrong startup of the machine; combined with various gestures, operations such as opening applications and taking screenshots can be easily realized. The device also supports remote control.
Screen sharing across network segments
The revolutionary cross-network screen sharing solution solves the situation that the machine cannot be recognized when different devices share screens; it supports NFC touch transmission, wireless screen sharing, one-key screen sharing with screen sharing transmitter and other screen sharing methods to achieve rapid information sharing with the team; it also supports reverse control through the intelligent  interactive flat panel, making the presentation more flexible for interaction
Smart whiteboard
With the help of the smart whiteboard, ideas can be displayed in a more diversified way, and rich material insertion forms can quickly show creative ideas; the unlimited canvas supports zooming and roaming of the canvas content, and ideas are not limited by the boundaries of the whiteboard; support intelligent writing assistance to convert writing to neat text.
Contact form
Please use the following form to get in touch and we will get back to you within 24 hours. You can use any contact form plugin in this area.
itc Headquater

Building NO. A13-1, Yiku Industrial Park, The Hills, Dongyi Road, Panyu District, Guangzhou, China 511492

itc Factory

NO.1 Building B Block Zhongcun Street Panyu Guangzhou China

Email itc

Call itc

+86-020-3937 8731

+86-18824115002 (whatsapp)